Meeting 2019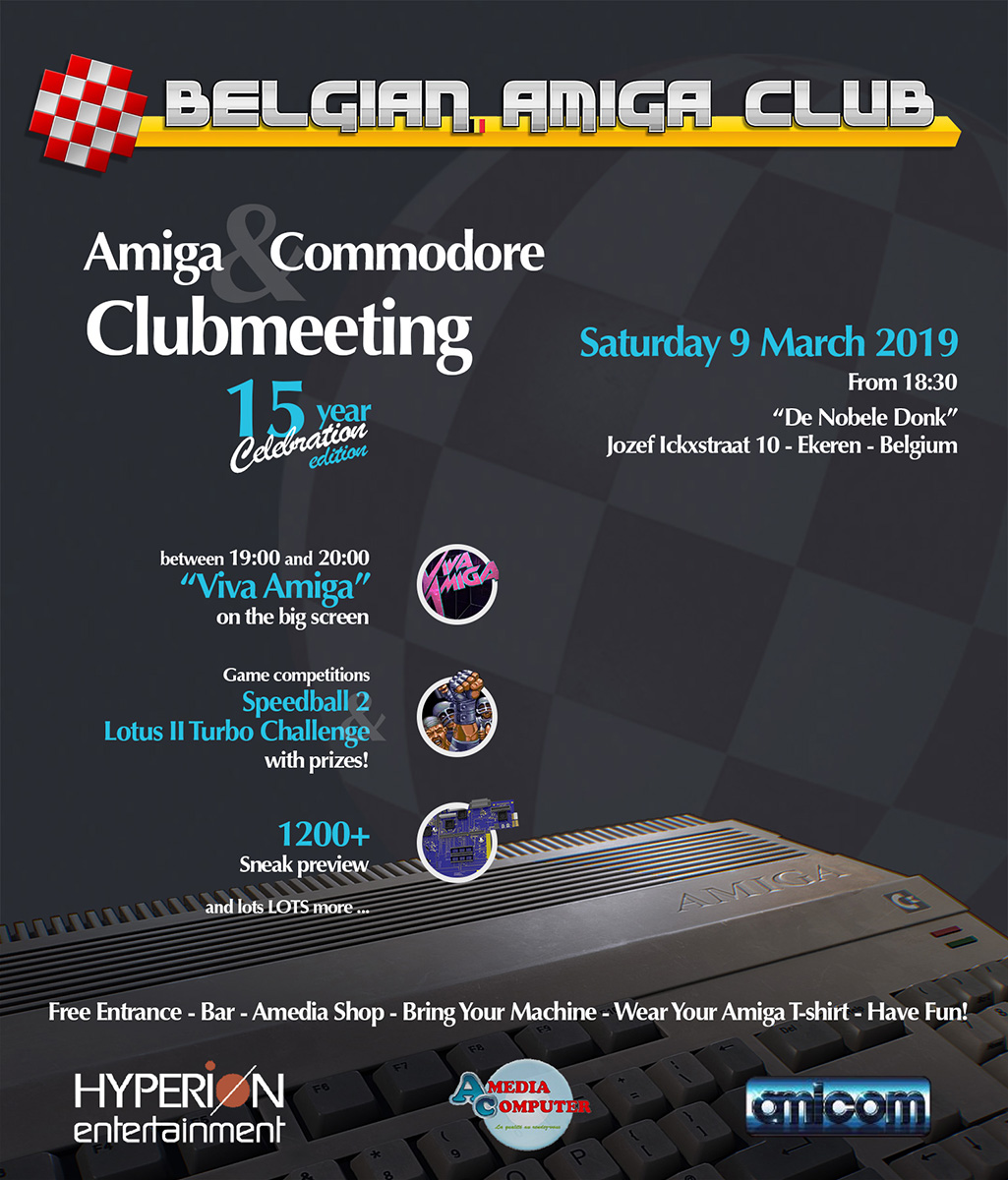 The Belgian Amiga Club celebrates its 15
th

Birthday

This year, we'll have been keeping the Belgian Amiga scene alive for 15 years, and we will celebrate in style!

On Saturday, March 9th, Simon and partner in crime Steffest invite you to "De Nobele Donk", Jozef Ickxstraat 10, 2180 Ekeren, Belgium. We will start at 18:30.

We found a location where time seems to have stood still for the last 3 decades. Think pool table, pinball machine and Rock Lobster being piped through the speakers! If you have ever attended any local Amiga meetings back in the day, in the community house and/or the backroom of a pub near you, this will surely throw you back to those good old days. And since we are Belgians, a fine selection of beers will obviously be available, so you can enjoy a nice drink while you "talk Amiga" with your friends at the bar.

Please feel free to show up in your favourite Amiga T-shirt, and bring your beloved Amiga and/or your children, so they can finally see what you were up to when you were young. We have plenty of space and entertainment to go around!

Some things to look forward to:
You can win some nice thingies offered by Koen De Brabander, writer of the 8-bit Kids book and singer/songwriter of Chaos Generator's Sid Waves album

.

There will be plenty of Belgian Amiga Club fanware, and we'll be able to give away some nice goodies kindly offered to us by Hyperion and Amedia.
How can you win this? There will be a Lotus Turbo Challenge and a speedball 2 contest.
Wearing the ugliest eighties-style shirt and tie might also help..


Amedia Computer from France will attend our meeting with a booth where you can buy whatever you desire for your Amiga.
They will gladly take your order up front and bring it along, so you can save on shipping.


Jeroen Vandezande will present and show the progress of his A1200+, a reimplementation of the Amiga 1200.



Peter Smets from

www.consolekabels.be will fill a table or two with a focus on Amiga and Commodore cables and joysticks.
Of course feel free to browse his website and drop him a message if you see something of interest you wanted to buy from him.


Also, if you need any of your Amiga problems solved, there's bound to be someone that might be able to help you out, so don't hold back and just drag your machine along with you.


As a special treat, between 19:00 and 20:00, we will play Viva Amiga on the big screen!
This documentary from 2017 on the history of the Amiga was directed by Zach Weddington, and stars Dave Haynie, R.J. Mical, Trevor Dickinson and many others.


Please note that we're always on the lookout for sponsors for our event.
Also, if you are or know an Amigan who has something to show, sell or give away, drop us a line at

info@amigaclub.be

.


As usual, our meeting is free of charge.
However, a small (or big) donation is always very much appreciated. If you want, you can donate via PayPal (

info@amigaclub.be

)

or use the piggy bank that will be provided on site.
Please remember this is optional and not required.


BE THERE OR BE SQUARE!